Main Content
This is a guest post from the Office of the Provost:
Wake Forest will be celebrating Global Wake Week on March 14-18. Enjoy a week filled with activities, films, food trucks, games and more as we prepare for the SACSCOC on-site visit. This educational week for faculty, staff and students will celebrate our past global successes and will launch the University's 10-year Quality Enhancement Plan for strengthening Global Wake Forest, "Transcending Boundaries: Building a Global Campus Community."
 Faculty and staff are invited to celebrate this week by participating in all of our programming and by enjoying a special dinner in the new Sutton Center in Reynolds Gym on Tuesday, March 15 from 5-6:30 p.m. To RSVP for this event, please visit http://rsvp.events.ua.wfu.edu/global-wake-forest-hygge-dinner/. Limited seating is available.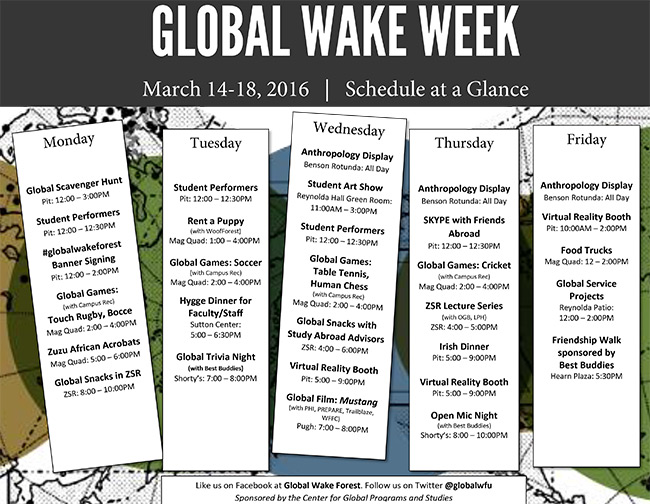 Recent Posts
May 22, 2020

May 20, 2020

May 19, 2020