Main Content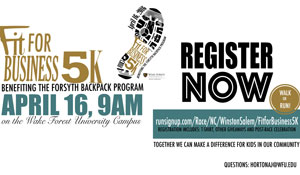 This is a guest post from the School of Business:
What do backpacks and running shoes have in common?
This year, it's the Fit for Business 5K run on April 16, beginning and ending at the School of Business, Farrell Hall. The School's Graduate Student Government Association (SGSA) designed the event to promote wellbeing and highlight a problem less than 5K away from campus — hungry schoolchildren.
Proceeds from the race will benefit Forsyth Backpack Program, a local nonprofit that feeds K-12 schoolchildren who don't have consistent access to food on weekends or school holidays.
"I hope that the 5K rings alarms of awareness though out our community concerning the hunger issues children face daily in this area. One in two children in Forsyth County are on reduced or free lunch [at school] … and experience food insecurity," said Williams Hawks (MA '16).  "We must ensure that we are living up to the call of our motto, Pro Humanitate. We must be there to close the gap on local hunger."
"The Backpack program does more than just feed children, it helps prepare students to learn," said Amanda Horton, associate director of the School's integrative student services. "Education is clearly a passion of our students, faculty, and staff making this organization a natural fit."
Hosting a philanthropic event in the spring isn't new for the GSGA, but a 5K run is. With the event open to the public, organizers expect to make a noticeable impact on our community and hope the race becomes an annual tradition.
"We have many great traditions on campus, but so few that extend beyond the borders of our campus," GSGA president Charley Costa (MBA '16) said. "I also hope this event raises awareness for students that malnourishment is a problem right here in our backyard."
When the GSGA asked students who should benefit from the inaugural event, an overwhelming majority chose the Forsyth Backpack Program. That could be partly because Master of Arts in Management (MA) students learned about program during their orientation. As part of their new program the business students packed hundreds of bags of food to feed area schoolchildren over Labor Day weekend.
Learn more about the problem local schoolchildren face, and how our students have helped, including video and photo gallery.
"We are thrilled that the School of Business is taking action with us to fight childhood hunger in our community," said Carol Templeton, president of Forsyth Backpack Program. "The funds raised by the event will go to purchase nutritious food for children on weekends when they might not otherwise have enough, or even anything, to eat. The food will help these children return to school on Mondays ready to pay attention, learn, and run on the playground!"
"As a recreational runner and a former nonprofit event planner, the 5K is a wonderful opportunity to bring together my skills and interests to live out Pro Humanitate," said Melissa Berry (MBA '16). "It's a daunting task, but we have a great team and are committed to making this inaugural event a success."
Ready to run?
Register here. Student tickets are $20 and all other tickets are $25 through March 15. After that, the price increases. When you sign up, you'll receive a race packet, including a commemorative t-shirt.
If you like to make a difference without sweating, donations are also accepted.
Questions? Contact Amanda Horton or Melissa Berry.
Recent Posts
May 22, 2020

May 20, 2020

May 19, 2020