Main Content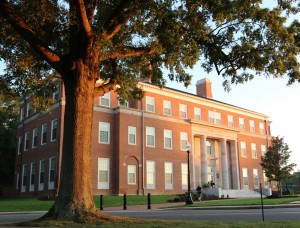 Farrell Hall, the 130,000 square-foot home to the School of Business, recently received LEED (Leadership in Energy and Environmental Design) Gold certification.
Among the strategies that contributed to Farrell Hall's Gold-level certification is its inclusion of Forest Stewardship Council (FSC) certified wood paneling and regional materials. Almost 30 percent of the building materials by value were manufactured within 500 miles of the project site. More than 80 percent of on-site generated construction waste from the project was diverted from landfills. The incorporation of bicycle storage facilities also encourages alternative transportation.
One of the most notable features of the building is its open floor plan with classrooms, offices and social spaces on every floor—an intentional design aspect that encourages faculty-student interaction. Before Farrell Hall's opening in 2013, School of Business faculty, staff, undergraduates and graduates were housed in two separate buildings on the Reynolda campus.
"Farrell Hall was designed to be an innovative space from the ground up. Our aim was to provide a remarkable home for our school, without compromising our commitment to sustainability. Our open, collaborative environment fosters business education and encourages engagement between faculty, staff and students," said Charles Iacovou, Sisel Distinguished Dean of the School of Business. "Achieving LEED Gold certification places the School of Business in excellent company at Wake Forest."
Georgian-style façades facing east, north and south feature Wake Forest's classic Deacon Blend brick. The building's modern, glass-covered west side is shaded by a loggia and overlooks a terrace surrounded by a wooded lawn. A minimal number of trees were removed for the project's construction. "Farrell Hall was sited and organized to take advantage of an existing grove of mature pin oak trees," said Marek Turzynski, LEED Accredited Senior Associate at Robert A.M. Stern Architects, who served as the firm's project manager for Farrell Hall.
All new buildings on Wake Forest's campus are designed to meet a minimum LEED Silver standard. Farrell Hall was made possible by a generous gift from Mike and Mary Farrell in 2010, broke ground in 2011, and opened its doors to students in July of 2013. Prior to any project receiving certification from the US Green Building Council, a post-occupancy performance verification is required. The process to certify projects isn't quick, as "commissioning of building systems is a complicated process," explained Turzynski. "A lot of documentation has to be compiled and verified."
Farrell Hall features 18 total classrooms, 16 of which have natural light—a contributing factor in decreasing energy usage. The building can house 1,250+ students and features office/work areas for 170 faculty and staff.
Click here to learn more about Farrell Hall: http://business.wfu.edu/wp-content/uploads/2015/05/2013FarrellHall_brochure2_3_LR_FINAL.pdf
Recent Posts
September 18, 2020

September 18, 2020

September 17, 2020