Main Content
Allison McWilliams, director of mentoring and alumni personal and career development in the Office of Personal and Career Development, writes occasional articles for Inside WFU.  This is her third for the spring semester.  In each, she shares observations and suggestions with faculty and staff drawn from her professional experience with students.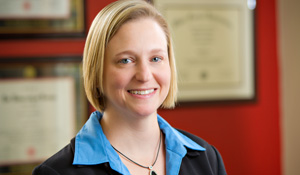 While there are many strategies and tools that mentors use as part of any effective mentoring relationship, all great mentoring conversations are built around two core practices: asking great questions and giving great feedback. These are two sides of the same developmental coin that help students grow into mature, thoughtful, reflective adults who can process and synthesize information, seek out differing viewpoints, and make effective choices and decisions.
Giving effective feedback can be a particularly challenging part of the mentoring conversation. All of us, at some point, have been on the receiving end of poorly-worded or poorly-delivered feedback, and it does not feel good. Those experiences make most of us hesitant to offer advice and guidance to others. But this is exactly what effective mentors can and should do. It is a gift of the mentoring relationship to help someone learn from her successes and her failures, so that she can build on those lessons for the future.
Why is GOOD feedback important?
It prevents small issues from becoming unmanageable problems
It builds trust in relationships
It promotes personal and professional growth
It clears up misunderstandings
It is a way to acknowledge and recognize skills, contributions, and accomplishments
The best feedback is:
Don't wait two weeks to tell someone where they have fallen down, or where they have excelled. The best feedback is delivered in or as close to the moment as possible.
Objective and behavior-based. Effective feedback provides concrete behaviors as examples. Telling someone "You're awesome!" does not help that person, nor does "You're not meeting my expectations." Provide concrete behaviors as examples of the actions you would like to see repeated or changed in the future.
Focused on the other person's development. Effective feedback always has the other person's best interests at heart. Check yourself first: is this about a personal grudge or because you really want to help the other person improve?
 In addition to hearing great feedback from their mentors, learning how to ask for and effectively respond to feedback are skills that all of our students should develop. Encourage your students to seek out feedback on a regular basis and help them to reflect on the lessons they are learning along the way..
Recent Posts
May 22, 2020

May 20, 2020

May 19, 2020