Main Content
Allison McWilliams, director of mentoring and alumni personal and career development in the Office of Personal and Career Development, writes occasional articles for Inside WFU.  This is her first for the spring semester, following several published in the fall.  In each, she shares observations and suggestions with faculty and staff drawn from her professional experience with students.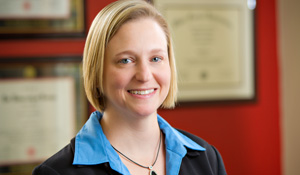 Higher education puts a lot of focus on the transition from high school to college. We have formal orientation programs, social and well-being programs, resident advisors, student advisors, faculty advisors, faculty fellows, first-year seminars, student activity fairs, and many, many other resources and supports to make sure that our students effectively find their places, both academically and socially. This is important work, of course, but in all of our efforts to make sure that our students are doing well here, we must not lose sight of the end goal: we want them to do well out there, too.
Mentors play important roles in preparing students for the sometimes jarring transition from college to life after college. Effective mentoring relationships develop the practices and habits of mind that encourage personal and professional goal-setting, seeking out feedback on choices and decisions, and reflective thinking. And this is not a process that has to or should wait until senior year. Maturation is a cumulative process. By learning to solve small problems, students start to acquire the tools and strategies to help them to solve the larger problems. Effective mentors don't say, "Let me fix that for you." Effective mentors ask, "What have you tried so far?"; "Why do you think that worked or did not work?"; and, "What would you like to do differently in the future?"
Each year we celebrate National Mentoring Month here at Wake Forest during the month of January. Our theme for this year is "Mentoring for Life After College." On our website you will find tools and resources including a mentor's guide, videos with alumni reflecting on what they have learned, and the launch of Five for Your First Five, which is our take on what young alumni should be doing during their first five years out of college. In the coming months we will be adding tools and resources to support these five areas, for mentors, students, and alumni.
Mentoring is one important strategy to aid in the transition from college to life after college, and it starts on the first day that students step foot on this campus. Every experience, every interaction, every decision, is forming the people they will become. Mentors are facilitators of that growth and development, role models and champions.
Recent Posts
May 28, 2020

May 22, 2020

May 20, 2020