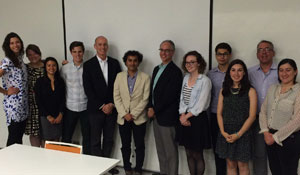 Wake Forest students studying in Chile this semester were given the opportunity this week to present the results of their independent research projects to Provost Rogan Kersh, their Chilean professors and others.  Kersh flew to Santiago, Chile, to attend a research symposium where the presentations were made and to be provided an overview of Wake Forest's many activities in Chile.
The students are participating in Wake Forest's newest study abroad program in Latin America, "Wake Forest University Chile: Honors Semester."  In a seminar and tutorial setting with intensive individual instruction and class work, students are able to achieve the honors in Latin American and Latino Studies designation in one semester.
The program also includes travel and excursions, including a trip to Cuzco, Peru, and the archaeological site at Machu Picchu.
Launched this fall, the honors program in Chile will be there every fall.  It will be open to a select number of students considered by faculty to be prepared for the arduous academic program.
For this inaugural semester, faculty invited the provost to visit the program in Santiago, meet the students and hear their research presentations.  In addition, the provost will meet with officials of Wake Forest's partner institution, Universidad Diego Portales, in Santiago to discuss further potential avenues for cooperation between the two institutions.
The new program fits well with many of Wake Forest's goals for students, said Peter M. Siavelis, director of Latin American and Latino Studies as well as the Chile Honors Program director.   The honors semester offers:
–mentored individual research
–faculty-student engagement (a full-time faculty member in Chile works closely with all students)
–development of global perspectives for students
–bringing global perspectives to the campus (students will present their research in a research colloquium on campus when they return)
–foreign language development (students conduct research in Spanish)