Main Content
This is a guest post from 88.5 WFDD:
88.5 WFDD, the public radio station licensed to Wake Forest University, is partnering with former 88.5 WFDD news director and NPR newscaster Paul Brown to re-launch "Across the Blue Ridge," a program created by Brown at WFDD in the late 1980s. "Across the Blue Ridge" tells some of America's most fascinating stories through the lens of Appalachian music and cultural history. It focuses on the southern Blue Ridge region known as a hotbed of old-time, bluegrass, blues, and country music. The show previously ran on WFDD for more than a decade until Brown left WFDD for NPR in Washington, DC.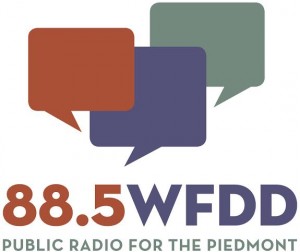 Brown said, "I'm thrilled to collaborate with WFDD to bring 'Across the Blue Ridge' back to the airwaves, to the web, and to live performance venues. This is an amazing period in our music history, with a new generation of hot performers taking off in wonderful directions. I hope listeners will join me in sharing a truly fascinating, always-evolving story about the American south, its music, and connections to the wider world."
88.5 WFDD has planned a January 2016 launch of the re-envisioned show, and has introduced an Indiegogo campaign to raise funds to support the production of the program. "Producing a weekly radio program is costly," said WFDD General Manager Tom Dollenmayer, "and we hope that our listeners who remember 'Across the Blue Ridge' fondly will want to contribute to aid in bringing back the show."
The station is also seeking sponsors to underwrite the program, according to Assistant General Manager Molly Davis. "Local businesses can brand themselves with messaging within the 'Across the Blue Ridge' program. We are grateful to the sponsors who have already embraced the revival of this beloved show." Davis said that Great Outdoor Provision Co. has signed on as a lead sponsor of the show and that the Blue Ridge Music Center has also committed to sponsorship.
More information about "Across the Blue Ridge" and supporting the show through underwriting or the Indiegogo campaign can be found at wfdd.org.
88.5 WFDD, Public Radio for the Piedmont, is a broadcast service of Wake Forest University and is the only public radio station of its kind located in the Piedmont Triad. It broadcasts news, information, and public affairs programming covering the arts, people, and institutions in the area from its Winston-Salem studios. The state's charter NPR® member, 88.5 WFDD is the longest continuously-broadcasting public radio station in North Carolina.
Recent Posts
April 12, 2021

April 9, 2021

April 8, 2021