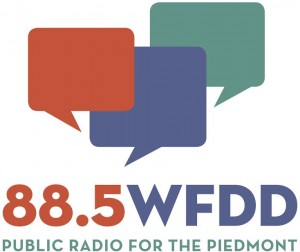 88.5 WFDD, the public radio station licensed to Wake Forest, was recently honored by the Radio Television Digital News Association of the Carolinas (RTDNAC) with nine awards for excellence in journalism.
The RTDNAC 2015 Awards Competition recognized the best of TV, radio, website, and collegiate work from July 1, 2014, through June 30, 2015. 88.5 WFDD received seven first place awards in the news categories of Consumer/Economic, Education, General News, Hard News Feature, Investigative, Light Feature, and Spot News; a second place award in the category of Spot News; and WFDD's Keri Brown won first place for Radio Reporter of the Year.
Stories that received first place awards included Tobacco Farmers Lose Longtime Safety Net, by Emily McCord; As Education Spending Grabs Spotlight, Deteriorating Schools Get Little Aid, by Keri Brown; Dan River Coal Ash Spill: Long-Term Impact Unknown, by Keri Brown; Neighbors Lobby For More Regulation On Chicken Farms, by Keri Brown; McCrory Pushes Tax Credits At Opening For Company That Hasn't Used Them, by Paul Garber; A Band Of Their Own, by David Ford; and Winter Storm Closes Schools, Downs Power Lines, by Emily McCord. The second place Spot News award was given for As Same Sex Marriage Becomes legal, Opinions In NC Are Mixed, by Emily McCord.
88.5 WFDD's general manager, Tom Dollenmayer, said, "WFDD has been growing our news department to strengthen our reporting and to tell the stories of our community as only public radio can. WFDD is honored to be recognized, and I am proud of the hard work and dedication of our entire team."
These award-winning stories can be heard at wfdd.org.
88.5 WFDD, Public Radio for the Piedmont, is a broadcast service of Wake Forest University and is the only public radio station of its kind located in the Piedmont Triad. It broadcasts news, information, and public affairs programming covering the arts, people, and institutions in the area from its Winston-Salem studios. The state's charter NPR® member, 88.5 WFDD is the longest continuously-broadcasting public radio station in North Carolina.