Main Content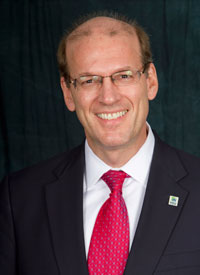 Jonathan Reckford, CEO of Habitat for Humanity International (HFHI), will speak on Oct. 20 at 6 p.m. in Brendle Recital Hall at Scales Fine Arts Center.  HFHI is an ecumenical Christian housing ministry that has helped more than five million people construct, rehabilitate or preserve homes in more than 70 countries.
The event is free and open to the public. The speech will also be livestreamed.
Reckford is coming to Wake Forest for participation in The Leadership Project. This initiative is designed to celebrate the many ways leadership development is taught and inspired at Wake Forest and to engage members of our community with compelling personal leadership stories from a wide range of experiences and perspectives.
Reckford, the author of "Habitat for Humanity: No Hands but Yours," was appointed CEO of HFHI in 2005. He is a graduate of the University of North Carolina at Chapel Hill, where he was a Morehead Scholar. He earned his MBA from the Stanford University Graduate School of Business before spending much of his career in the for-profit sector.
For more information, click here.
Recent Posts
June 3, 2020

June 2, 2020

June 2, 2020