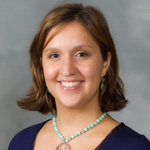 Betina Cutaia Wilkinson, assistant professor of politics and international affairs, recently received the inaugural Early Career Award given by the Midwest Political Science Association (MPSA) Latino/a Caucus. She received the award at the MPSA Conference in Chicago.
Wilkinson, who was born in Buenos Aires, Argentina, and immigrated to the U.S. at the age of six, received her doctoral degree from Louisiana State University in 2010. Her research and teaching interests include race and ethnicity, Latino/a politics, race and media, public opinion and immigration policy.
Besides receiving an Early Career Award, Wilkinson is an American Political Science Association Minority Fellow and a Southern Regional Education Board Doctoral Scholar. She is also the author of several journal articles and book chapters. Her forthcoming book, "Partners or Rivals? Power and Latino, Black and White Relations in the 21st Century," will be published by University of Virginia Press.