Main Content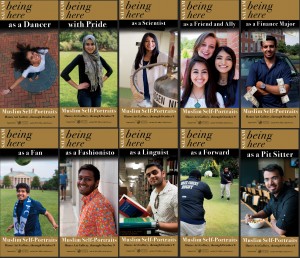 A series of events known as "Being Here: Salaam" is underway at Wake Forest in September and early October.
The "Being Here: Salaam" project began Sept.  21 at Hanes Art Mezzanine Gallery in Scales Fine Arts Center with an exhibit of photographs by Todd Drake featuring Imam Khalid Griggs, associate chaplain, and other Muslims–many from North Carolina.  The exhibit, which draws from Drake's "Muslim Self-Portrait" series, will continue until Oct. 9.  In that exhibit, Griggs is the only member of the Wake Forest campus community featured.
This week, portraits of 12 Wake Forest Muslim students by Drake have been hung across campus on large banners in highly visible locations, such as the atrium at Z. Smith Reynolds Library.  On each banner, a student self-identifies in a particular manner.  For example, one banner reads "being here as a linguist," while another reads, "being here as a scientist."
Cindy Gendrich, director of the Interdisciplinary Performance and the Liberal Arts Center (IPLACe)  and professor of theatre, remarked that, "Students, faculty, and staff have been beautifully collaborative in putting together this project. It's so important to embrace our shared humanity, and we hope this week's 'Being Here: Salaam' events help reinforce what a wonderful community we can have when we do that. In fact, in order to make that idea visible, we're having a community hug this Friday, October 2, at 2 p.m. on Hearn Plaza.  We hope everyone will join us there."
At 5 p.m. October 2, an event will be held at the Hanes Mezzanine gallery that includes poetry readings by members of Wake Forest's Can I Poet, and a commissioned dance created by Amy Beasley and performed by Wake Forest student dancers. Beasley is an adjunct member of the theatre and dance faculty.
Remarks will also be presented by Griggs and Michaelle Browers, associate professor of politics and international studies. Browers also directs the Middle East and South Asia Studies program at Wake Forest.
The "Being Here: Salaam" series of events is sponsored by IPLACe and by the Office of the Provost. Special help has also been provided by the Chaplain's Office, and by Paul Bright and Katie Wolf of the Hanes Art Gallery.
Categories: Events
Tags: Amy Beasley, Can I Poet, Cindy Gendrich, Hanes Art Gallery, Hanes Art Mezzanine Gallery, Hanes Mezzanine Gallery, iPlace, Katie Wolf, Khalid Griggs, Michaelle Browers, Middle East and South Asia Studies program, Paul Bright, politics and international studies, Theatre and Dance Department, Z. Smith Reynolds Library
Recent Posts
June 5, 2020

June 4, 2020

June 3, 2020