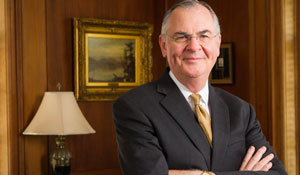 The Winston-Salem Journal has published a feature story about Dr. Hatch and his 10 years of service to Wake Forest as president. It is entitled, "Dynamic Decade: Hatch reshapes university with eye toward future."
The Aug. 2 article reflects on Dr. Hatch's time in the President's Office so far and explores his hopes and plans for his future years at Wake Forest's helm.
In the piece, Dr. Hatch comments on the University's goals, saying, "We want to be the best face-to-face liberal arts residential community." He adds,"We want to be the best place for college-to-career transition."
Dr. Hatch became Wake Forest's 13th president on July 1, 2005.