Main Content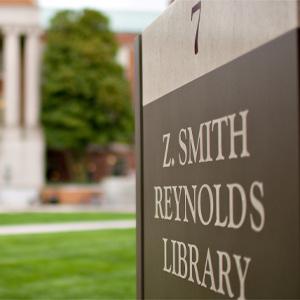 Staff and faculty of Z. Smith Reynolds Library were recently elected to professional organization offices for terms starting July 2015:
Christian Burris, serials acquisition coordinator, was elected to the executive board of NASIG as a member-at-large for a two-year term.
Carolyn McCallum, non-print resources cataloging librarian, was elected as secretary of the anthropology and sociology Section (ANSS) of the Association of College and Research Libraries (ACRL) for a two-year term.
Susan Sharpless Smith, associate dean, was elected to the Board of LITA (The Library and Information Technology Association is a division of American Library Association) as a director-at-large for a three-year term.
At the ZSR Library Annual Employee Recognition Luncheon in May, the following employees received awards as part of its internal award program:
Meghan Webb, reference services coordinator – Jill M. Tiefenthaler Employee of the Year
Craig Fansler, preservation librarian – Helping Hand
Beth Tedford, special collections & archives library specialist – Unsung Heroine
Lauren Corbett, director of resource services – Dedicated Deacon of the Year
You can learn more about the ZSR Award Program here.
Pictures of the award winners can be found here.
Recent Posts
September 18, 2020

September 18, 2020

September 17, 2020