Main Content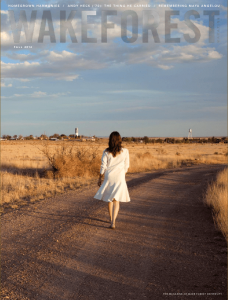 Wake Forest Magazine won two top awards in the 2015 Circle of Excellence global competition sponsored by the Council for Advancement and Support of Education (CASE).
The publication received a Gold Award in Periodical Staff Writing for a collection of five stories: "Out of This Art World" and "An Artful Friendship" by Editor Maria Henson ('82); "Oh, Those Lilting Banshees: Where Are They (Funny) Now?" and "Ted Gellar-Goad and the Secret of the Sphinx" by Managing Editor Cherin C. Poovey (P '08); and "The Thing He Carried" by Senior Editor Kerry M. King ('85).
"Wake Forest submitted a diverse and thoroughly entertaining set of stories. From painting buddies in Winston-Salem to art on the Texas prairie, each entry delivered a strong, unique voice and command of the material," wrote the judges. "Writing was crisp and informative. Even more importantly, the committee could delineate a direct connection between the subject matter and the mission of Wake Forest."
The magazine staff, including Deputy Editor Janet Williamson (P '00, '03), also received a Bronze Award for General Interest Magazines over 75,000 circulation.
Recent Posts
June 3, 2020

June 2, 2020

June 2, 2020