Main Content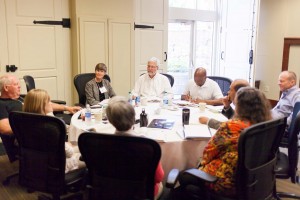 A guest post by Catherine Ross, director of Wake Forest's Teaching and Learning Center:
When assistant professors begin their careers, most colleges and universities have a process in place for mentoring and supporting these newest teachers and researchers. Only a very few college teaching and learning centers offer programming for mid and advanced career faculty dealing with issues and concerns such as: how to teach and connect with increasingly diverse students, how to get and keep students engaged in learning, and how to keep ourselves engaged in teaching year after year!
As the TLC director, I wanted to create a retreat for midcareer faculty. In 2011, after collaborating with colleagues at Elon, North Carolina A&T and UNC-Greensboro, the Graylyn Teaching Renewal Retreat was launched with faculty from each of these schools attending.
The Graylyn Teaching Renewal Retreat has become a national and international event. This summer, the first international participant arrived from Colombia, and the first West Coast participant attended from California. Other schools represented were Tulane, Michigan State, Stetson University, Ithaca College, San Diego State, Illinois State, University of Virginia, Salem College and Wofford. A total of 24 Wake Forest faculty have participated, and a couple have attended twice! From 2011-2015, 115 faculty participated in the retreat.
The retreat focuses on teaching, and the core of the program is 'working group' discussions. The participants are divided into groups with academic and institutional diversity. Over the three days of the retreat, the groups meet five times, with a facilitator who guides participants in discussing case studies that each participant submits as part of the application. The book, How Learning Works, is used as a resource. Because they all come from such different places and have had such an array of teaching experiences, these group sessions are always cited as the best and most valuable part of the retreat.
Recent Posts
June 5, 2020

June 4, 2020

June 3, 2020