Main Content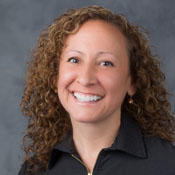 Have you taken a technology class through Information Systems or the Professional Development Center? If you have, chances are you know Sarah Wojcik-Gross. Sarah earned a Bachelor of Arts in French from Mansfield University of Pennsylvania, and an Master of Science in Education in Adult and General Education from Elmira College in upstate New York.
She began her career in Wake Forest's Information Systems department in June of 2007, starting at the Service Desk, and in 2008, she joined the newly-formed Learning Team. In January of 2010, she became the Manager of the Learning Team and has developed and taught dozens of technology workshops through the University's Professional Development Center and internally for the I.S. department.
Her workshops vary in topics from introductions to applications such as Microsoft Office to WebEx, Show and Share, Google Mail and Calendar, to more detailed training sessions on services like Google Drive.  She also conducts 15-Minute Wednesday Webinars for folks who have very limited time, but would like to learn new information and gain additional skills.
Sarah recently taught a 'Google Mail and Calendar Tips and Tricks' on June 9. Some of her tips and tricks were:
Goodbye Doodle! Use your Google Calendar to see everyone's availability.
Let Google manage your incoming emails by creating filters.
Tidy up your inbox by archiving messages.
Hit "Send" too soon? Enable the "Undo Send" lab!
Need to edit the subject line in a reply or forward message? We'll show you how!
In addition to the workshops offered through the Professional Development Center, Sarah is also currently teaching a Lifelong Learning course through the Liberal Studies Program of the Graduate School of Arts & Sciences, in conjunction with The Arts Council of Winston-Salem & Forsyth County.
Recent Posts
June 3, 2020

June 2, 2020

June 2, 2020