Main Content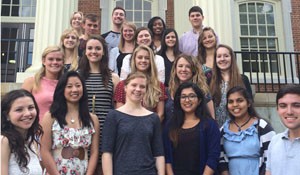 The Pro Humanitate Institute launched the Summer Non-Profit Immersion Program on May 27 with an intensive three-day Non-Profit Management Seminar attended by the 21 undergraduate interns chosen to work this summer at 17 non-profits throughout the Winston-Salem and Piedmont Triad community. The Non-Profit Management Seminar prepared students to serve in-depth roles in non-profits for the summer through training on legal, financial, organizational and theoretical structures of non-profit work.
Interns also gained insight into the Winston-Salem community through a lecture by the New Winston Museum and a day-long community plunge tour where they visited non-profits and neighborhoods throughout the community.
Through the beginning of August, student interns will work full-time with organizations throughout the community including the Community Care Clinic, Family Services, Kate B. Reynolds Charitable Trust, the Shalom Project, and HandsOn NWNC. Interns will meet weekly at different host sites to learn more about their community-based work and further develop skills in non-profit management and professionalism.
Past Summer Non-Profit Immersion Program participants have reported that the program has enhanced their connection to the community and increased their interest in non-profit and community engaged work. For more information on the SNIP program, visit the Pro Humanitate website. This summer, interns will be reflecting regularly through their blog.
Recent Posts
June 3, 2020

June 2, 2020

June 2, 2020