Main Content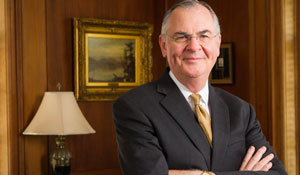 President Nathan Hatch has received the College and University Professional Association for Human Resources (CUPA-HR) 2015 Chief Executive HR Champion Award. Recognizing that what makes an institution great are its people, this award honors a president or chancellor of a higher education institution or system who has demonstrated significant support for the institution's human resources function.
CUPA-HR selected Hatch as the recipient because of Wake Forest's strategic investments in the areas of employee wellbeing, leadership development, diversity and inclusion and employee engagement. CUPA-HR recognized that, in his 10 years at the helm of Wake Forest, Hatch has prioritized the resources and support necessary for the University's human resources team to put plans into action.
"President Hatch has demonstrated time and again in countless ways his commitment to Wake Forest's greatest asset – its people," said chief human resources officer Carmen Canales, who nominated Hatch for the award. "We are so grateful for his thoughtful leadership, his support for human resources and his commitment to making Wake Forest a world-class institution. He is incredibly deserving of this award."
Thanks to the support of Sibson Consulting, the honor includes an $8,000 donation to an endowment or a scholarship fund of the President's choice. President Hatch has designated his award to Wake Forest's Magnolia Scholars program, which provides first-generation students financial and academic support.
Hatch will be honored at the CUPA-HR Annual Conference and Expo in Orlando, Fla., Sept. 27-29. Additional information about the award is available on the CUPA-HR website.
Recent Posts
May 22, 2020

May 20, 2020

May 19, 2020