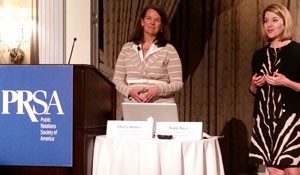 On April 16, Katie Neal ('03) and Cheryl Walker ('88) presented at the national Public Relations Society of America's (PRSA) Counselors to Higher Education Senior Summit in Washington, D.C.
Their presentation, "Commencement Speaker Drama? Getting It Right in the National Spotlight," shared best practices from the media frenzy that descended upon Wake Forest's 2014 commencement ceremony when speaker Jill Abramson was abruptly fired as Executive Editor of the New York Times.
As they reflected upon the five-day span between her firing and her commencement speech, Neal and Walker credited offices and partners across campus – including University Events, Parking and Transportation, Facilities and Campus Services, Information Systems, Aramark and University Police – with their team's ability to accommodate a ten-fold increase in media attendance and capitalize on the national spotlight shining upon Wake Forest.
"People across campus pulled together to create a positive experience for media, while ensuring the media presence did not overshadow the experience for graduates," said Walker, who is Director, News and Communications.
Their presentation also reflected upon President Hatch's suggestion that Abramson's public display of "resilience" was the perfect message for graduates.
"This year's commencement speaker, Stephen Colbert, already has his next job lined up, so we may not need as much resilience," said Neal, who is Executive Director, News and Communications, "but we know we're going to need a sense of humor."
PRSA is the world's largest and foremost organization of public relations professionals. The Counselors to Higher Education group provides strategic leadership in public relations at colleges and universities. More than 150 PR professionals from colleges and universities across the country were present. Other speakers included University of Michigan President Emerita Mary Sue Coleman and West Virginia University President Gordon Gee.