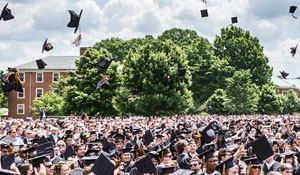 A message from Executive Vice President Hof Milam
Commencement is the highlight of our academic year. It is a wonderful time for the campus community to come together and celebrate with graduating students and their families. This year's commencement ceremony will be held Monday, May 18, on Hearn Plaza, beginning at 9 a.m.
It is always important for us to be gracious hosts to our visitors and make sure their access to campus is as easy as possible. To make this the best commencement experience possible for our graduates and guests, please observe the following guidelines:
In case of rain, the commencement ceremony will be held at the Coliseum, beginning at 9:30 a.m. Parking on campus will not be affected if the ceremony is held at the coliseum.
Stephen Colbert, comedian and late night television host, will deliver the Commencement address. A livestream webcast of the ceremony will be available at go.wfu.edu/wfu15.  For those with access to a campus television, the ceremony will be broadcast on channel 80.1.