Main Content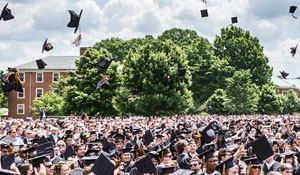 A message from Executive Vice President Hof Milam
Commencement is the highlight of our academic year. It is a wonderful time for the campus community to come together and celebrate with graduating students and their families. This year's commencement ceremony will be held Monday, May 18, on Hearn Plaza, beginning at 9 a.m.
It is always important for us to be gracious hosts to our visitors and make sure their access to campus is as easy as possible. To make this the best commencement experience possible for our graduates and guests, please observe the following guidelines:
Faculty & staff should not attempt to park on campus prior to 1 p.m. on the day of commencement. Passes, which have been issued to graduates and their families, will be required for all cars entering campus.
Faculty & staff who need parking should park at Bridger Field House and ride the shuttle to campus. Enter the stadium parking lot through the Reynolds Boulevard entrance and follow the signs to the parking area and the shuttle pickup point. Shuttles will run continuously throughout the day from 5:30 a.m. to 6 p.m. 

A Wake Forest ID will be needed to access the shuttle.

Faculty & staff may park on campus after 1 p.m.
Reynolda Campus staff who do not have a direct commencement responsibility need not report for work until 9:30 a.m. on Monday, unless otherwise required by their department.
Please have your Wake Forest I.D. with you at all times on campus during commencement.
In case of rain, the commencement ceremony will be held at the Coliseum, beginning at 9:30 a.m. Parking on campus will not be affected if the ceremony is held at the coliseum.
Stephen Colbert, comedian and late night television host, will deliver the Commencement address. A livestream webcast of the ceremony will be available at go.wfu.edu/wfu15.  For those with access to a campus television, the ceremony will be broadcast on channel 80.1.
Recent Posts
August 6, 2020

August 5, 2020

August 5, 2020