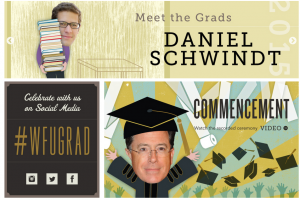 For Wake Forest Communications and External Relations (CER), commencement planning begins early. All of CER — events, creative, digital, news and photography — begin laying the groundwork for graduation months in advance.
This year, University events, in addition to handling the distribution of 13,788 commencement tickets and managing a production schedule around campus renovation work, the team was responsible for overseeing a new commencement experience for graduates and their guests. Geni Greiner, who joined Wake Forest in February 2015, managed Commencement with her new team for the first time this year.
With comedian and late-night host Stephen Colbert as commencement speaker, Hayes Henderson's creative team designed a homepage "takeover" for www.wfu.edu featuring illustrations of Stephen Colbert, baccalaureate speaker Jonathan Walton and several students as caricatures — embracing a lighthearted theme for this year's ceremony. Graphic designers created a new look for Commencement programs, while project managers, organized the workload as well as handled printing of tickets, parking passes and maps for guests.
Under the direction of Mark Anderson, the digital team brought the creative team's ideas to the homepage, provided livestreams for Baccalaureate, Commencement, and the graduate school hooding ceremonies and arranged for the cable television broadcast of Commencement on campus. The team managed technical support for four jumbo video screens and developed and executed a social media strategy that included showcasing select #wfugrad tweets during parts of the ceremony. Wake Forest trended nationally on Twitter for the second year in a row.
Stephen Colbert's commencement speech at Wake Forest was picked up by hundreds of media outlets with help from Katie Neal's news team. Local television stations WFMY, WXII, WGHP and TWCNews were on Wake Forest's campus for live shots throughout the day. In addition to managing numerous Commencement announcements, coordinating interviews with OPCD employment experts and arranging five student interviews before the ceremony, team members assisted media with their Commencement coverage during and after the ceremony. The team also provided 17 "Meet the Grad" student profiles for the Commencement site.
The University's photographer Ken Bennett and his intern Ann Thuy Nguyen ('17) used five cameras and eight lenses to shoot 5,309 photos on Commencement day. More than 1,000 made the first editorial cut and 208 final images were processed and posted to a Flickr gallery by Commencement evening. The Baccalaureate and Commencement galleries had 171,479 page views Sunday through Wednesday. A photo story of "Commencement 2015" also went live the evening of May 18 with help from the digital team.
"CER works with people across the University to ensure Commencement weekend is a top-notch experience," said Brett Eaton, CER's associate vice president. "With help and support from committed Wake Forest faculty, staff and students, all the planning and event execution go unnoticed as graduates and guests enjoy celebrating the success of the Class of 2015."
Commencement ceremonies will be held on Monday, May 16 for the Class of 2016. Eaton says planning is already underway.