Main Content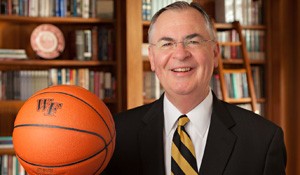 The Atlantic Coast Conference (ACC) has bestowed the "President's Award for Exemplary Service to the ACC" to President Nathan O. Hatch.
The award was announced at the ACC's spring meeting Tuesday evening.
Each year, the outgoing Conference President honors someone for commendable service to the ACC during the year of the president's term or over an extended period of time.
Martha Putallaz, the 2014-2015 ACC President and faculty representative for Duke University, chose to honor Hatch for demonstrating exceptional leadership during what she called "a most pivotal, challenging and transformative time in the history of intercollegiate athletics." 
In April 2010, Hatch agreed to represent the ACC on the NCAA Division I Board of Directors and was then elected chair two years later. He served as Division I Board Chair from August 2012 until January 2015.
Under his leadership, the NCAA developed a new, more streamlined and efficient governance structure, raised academic standards, restructured enforcement, increased autonomy for power conferences, and brought student-athletes into the governance process, among other accomplishments.
He also played an instrumental role in the ACC expansion effort that welcomed the University of Notre Dame, where Hatch served as Provost prior to coming to Wake Forest, to the conference.
"President Hatch was able to achieve all that he did because he was a truly effective and patient leader, one who listened and could make all parties feel valued and heard, a man of great integrity trusted by all, and who truly represented the best interests of academics and athletics as a paired endeavor," said Putallaz.
"It has been a privilege to represent Wake Forest, and all of the member institutions of the ACC, as the NCAA took historic steps to advance and modernize intercollegiate athletics," said Hatch. "I accept this award with honor and gratitude for the people and institutions that have allowed me to pursue my professional and personal passions as an academic, an administrator and an athletics supporter."
Recent Posts
May 22, 2020

May 20, 2020

May 19, 2020