Main Content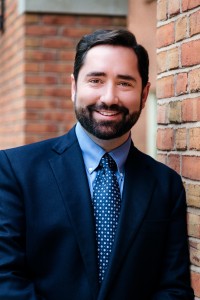 Wake Forest University Assistant Professor of History Jake Ruddiman analyzed historical documents and provided on-air commentary for the April 19 episode of the TLC program "Who Do You Think You Are?" featuring actor Bill Paxton.
The show helps celebrities research their family history. In this episode, Paxton researched his ancestors' participation in the American Revolution — reading firsthand accounts of the battles and visiting a battlefield.
Producers invited  Ruddiman to participate on the show based on his expertise on Revolutionary War history and his recently published book, "Becoming Men of Consequence: Youth and Military Service in the Revolutionary War."
Ruddiman shared a few details about his experience:
Q. How did you become the historian for a reality TV show episode?
A. The producers contacted me because of the book I've just published on young men serving as soldiers in the American Revolution. They first asked me to help with background research for the episode and initial interpretation of documents from Paxton's ancestor, Benjamin Sharp.  Then, in October, they asked if I wanted to be one of the on-camera historians who introduce documents to Bill Paxton. We met in Washington, D.C. at the Daughters of the American Revolution Headquarters library.
Benjamin Sharp was a young man living out in the Southwest corner of Virginia at the beginning of the Revolutionary War. As a teenager he fought at the Battle of King's Mountain and later moved to Missouri. In D.C., my role was to help Paxton interpret the documents from his ancestor, answer questions, and provide context.
Q. How does this experience relate to your research and teaching?
A. I found the time with Paxton strikingly similar to the work we do in our classrooms here at Wake Forest. The premise of the show is discovery: historians and archivists present documents for interpretation. Those texts then lead to new questions and additional documents. What sorts of stories and conclusions emerge from this evidence? When our students work with primary evidence, we ask them what they see in it? What else might it connect to? How does its meaning in the past compare with what we might see today? Asking what a source can tell us and what it might hide is the heart of historical thinking.
This episode offers a really good story, full of great questions and moral complexity. Through one person, it tells a story about the Revolutionary War and the frontier that may not be familiar. I teach a variety of classes on early America, including a course on war and society, Revolutionary America, and the early American republic. This episode with Bill Paxton hit at a seam that runs through several of my courses and is central to my research and writing.
Recent Posts
June 5, 2020

June 4, 2020

June 3, 2020