Main Content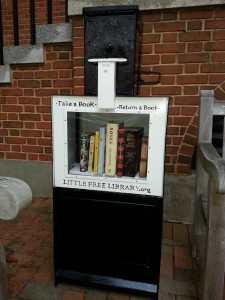 There is a new outdoor Little Free Library on campus in front of Tribble Hall off Gulley Drive at the benches, with the Department of Education Library as the steward.
This Little Free Library was recycled from an old newspaper stand from WFU Surplus.
Little Libraries are community resources that connect students, faculty, staff and neighbors who wish to share a favorite book of any kind — books that teach, intrigue and engage. Little Libraries belong to everyone, and anyone many use them.
Take a Book: If you see something you would like to read, take it. Check inside to see if there is note from whoever gave it. You can take more than one.
Share a Book: Return it to any Little Library or pass it on to a friend. If you can't bear to part with it, keep it and bring back a different book to share.
Return a Book: Do your part and keep Little Libraries stocked with high-quality books. Share your favorite titles. Be a friend of libraries big and small. Pay if Forward!
Recent Posts
May 30, 2020

May 29, 2020

May 29, 2020