Main Content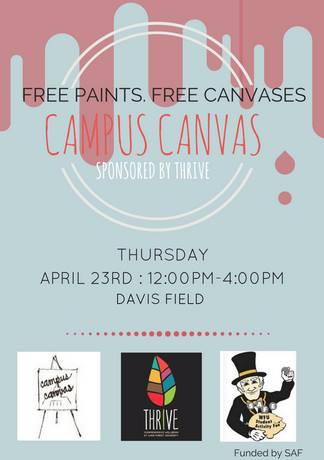 Wake Forest seniors Jordyn Albritton and Ariel Hawley will be laying down tarps on Davis Field and providing a variety of canvases, acrylic paints and brushes for students, faculty and staff to use to make artwork as part of "Campus Canvas." The event will be held Thursday, April 23, from noon to 4 p.m. on Davis Field
"Campus Canvas" will provide space for members of the Wake Forest community to take a break during the school and work week for relaxation and community building.
"Jordyn and I both enjoy painting as a hobby but we lacked the time or place to engage in this type of artistic activity," said Hawley. "We hope this event will provide a fun, creative outlet for Wake Foresters, regardless of ability."
Campus Canvas is sponsored by Wake Forest's 'Thrive' program — a campus-wide, comprehensive approach to wellbeing featuring eight branches including emotional, environmental, financial, intellectual, occupational, physical, social and spiritual. This month, Wake Forest is focusing on emotional wellbeing on campus.
Recent Posts
June 5, 2020

June 4, 2020

June 3, 2020