Main Content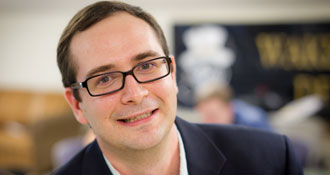 Jarrod Atchison, assistant professor of communication and director of debate at Wake Forest, has been awarded the George Ziegelmueller Award, which is presented annually to a faculty member who has distinguished himself or herself in the communication profession while coaching teams to competitive success at the National Debate Tournament. Previous Wake Forest winners include Allan Louden (2000) and Ross Smith (2009).
In other debate news, Wake Forest is hosting the revival of the Atlantic Coast Conference (ACC) Debate Championship April 11 -12, which brings together debate teams from member schools. The proposition to be debated: Student athletes should receive monetary compensation for participating in athletic competitions.
Atchison said that when the ACC signed its new television deal the agreement included financial support for a non-athletic competition. Provosts from across the ACC submitted proposals and Wake Forest's proposal to revive the debate championship was selected as the winner. "It's very exciting that our proposal was selected, and we're happy to be bringing debate back to the ACC as an official event," said Atchinson.
Recent Posts
June 5, 2020

June 4, 2020

June 3, 2020