Main Content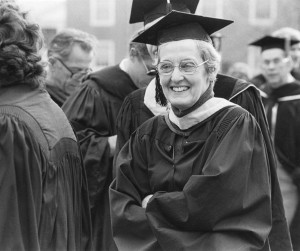 Lula M. "Lu" Leake came to Wake Forest as dean of women in 1964, two decades after the University opened its doors to undergraduate women during World War II, and served the University for 33 years.
Leake, who retired in 1997 as associate vice president for academic affairs, died April 13 in Winston-Salem. She was 89.
She served as dean of women for 20 years before becoming Wake Forest's assistant vice president for administration and planning in 1984 and also serving as dean of the summer session.
In 1996 Wake Forest presented Leake with the Medallion of Merit, the University's highest award for service. "She led our students through what was arguably the most significant era of change for women in the history of this nation," said Thomas K. Hearn Jr., president of Wake Forest when the award was presented to her.
"She was able to balance a true dignity on one side with a lightheartedness and a very fine sense of humor on the other," said Thomas E. Mullen, who served as Dean of the College from 1968 to 1995. Mullen remembered the many events for students Leake hosted at her Faculty Drive home. "She had a great joy in getting to know so many students and she derived a lot of satisfaction out of being able to help so many."
In a 2013 reflection published in Wake Forest Magazine, assistant provost for diversity and inclusion Barbee Oakes remembers how Leake helped her. "As a first-generation college student, I knew nothing about navigating administration to find and obtain resources until then-Dean of Women Lula M. "Lu" Leake bought me eyeglasses when my family could not."
Forty years ago, in response to a memo from Leake, a group of 60 faculty, administrators and librarians gathered in Reynolda Hall to talk about the concerns of women. As a result, the Women's Study Committee was formed that eventually led to the establishment of the University's women's studies program. She received the first annual "Woman of the Year" award from the Friends of Women's Studies in 1996 for her service as dean of women and her work as chair of the University's Commission on the Status of Women.
A native of Woodville, Miss., Leake graduated from Louisiana State University with a bachelor's degree in math. She completed her master's of religious education at Southern Baptist Seminary.
She was assistant dean of students at Meredith College before coming to Wake Forest. She had previously served as director of the Baptist Student Union at the College of William and Mary. Before starting her career in higher education, she also worked as a draftsman for the Standard Oil Company in Baton Rouge, La.
A portrait of Leake painted by artist Anne Kessler Shields hangs in Reynolda Hall near the Magnolia Room in the Lu Leake foyer.
Leake is survived by her niece, Lou Ann Pacula, and a number of other relatives. A memorial service will be held at 11 a.m. April 18 in Wait Chapel with visitation with the family immediately following.
The Wake Forest magazine gathered memories of Leake posted to its Facebook page in this story.
Read more about Leake in this Winston-Salem Journal story: "Lula 'Lu' Leake, longtime WFU administrator, dies at 89"
Recent Posts
March 2, 2021

March 2, 2021

February 26, 2021