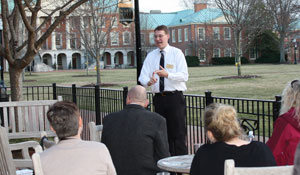 Wake Forest's Professional Development Center welcomed attendees for the 5th Annual Professional and Organizational Development Conference held March 8-10. The event was an opportunity for colleagues to network, share best practices, and collaborate on various professional and organizational topics.
What began as a small gathering of colleagues in 2011 has grown to a nationally-recognized conference, drawing learning and organizational development professionals from 28 higher education institutions from the U.S. and Canada.
The event began with "The PDC Story," an opportunity for attendees to learn more about WFU's Professional Development Center and its programs. The group then moved to Zick's for a welcome reception on one of the first beautiful spring evenings of the year. After dining and conversing on the patio overlooking Hearn Plaza, the conference case study was introduced, and participants were given time to discuss the case with their diverse groups.
Click here to learn more about the conference and here to view conference photos.