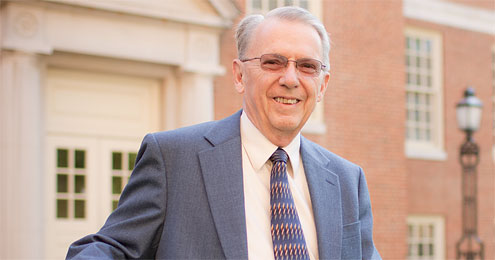 We are saddened to report that J. Edwin "Ed" Hendricks, professor emeritus of history, died March 27 in Winston-Salem.
Dr. Hendricks accepted his first and only faculty appointment as an Early American specialist at Wake Forest College in 1961. He retired in 2009.
We grieve Dr. Hendricks' death and extend our condolences to his family and friends, as well as those at Wake Forest who had the opportunity to know him. A service celebrating his life will be held April 4 at 2 p.m. at College Park Baptist Church, 1701 Polo Road, Winston-Salem, with a reception to follow in Smith Hall at the church. Memorial gifts may be made to the J. Edwin Hendricks Scholarship Fund in care of the Deacon Club, 499 Deacon Blvd., Winston-Salem, NC 27105.
Wake Forest offers support and counseling services for all students, faculty and staff. The Counseling Center may be reached at 758-5273, the Chaplain's Office at 758-5210. For faculty and staff, there is also the Employee Assistance Program at 716-5493.