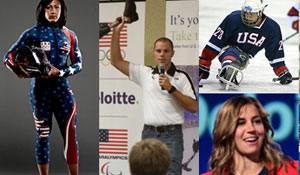 Elana Meyers Taylor, U.S. bobsled olympian, and Rico Roman, U.S. sled hockey paralympian, will be speaking on Tuesday, March 24 in Wait Chapel from 6-7 p.m. as part of the Deloitte Team USA Road Show event. The event is free and open to Wake Forest faculty, staff and students.
As a proud sponsor of the U.S. Olympic Committee, Deloitte is collaborating with the USOC to give the Wake Forest community a unique glimpse into the lives and triumphs of Team USA, whose commitment and sheer hard work has taken them to the top of their game.
Deloitte employees nominate colleges and universities to host their traveling Team USA Road Show. Wake Forest was one of 10 schools selected. Other schools hosting the Team USA Road Show are Baylor University, Bentley University, Carnegie Mellon University, Duke University, Georgetown University, Michigan State University, New York University, University of California-Berkeley, and the University of Illinois.
Watch this brief video to learn more about the experience http://bcove.me/d6qakc06
Register to attend by emailing Liz Hannah at lhannah@nulldeloitte.com.