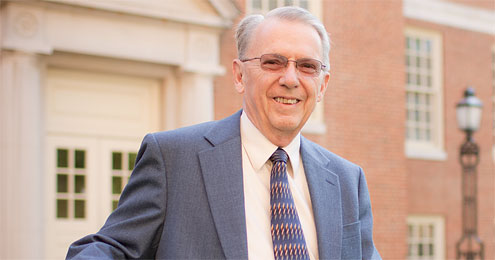 By Kerry King, Wake Forest Magazine
Much of J. Edwin Hendricks' life story can be gleaned from the last four digits of his home telephone number: 1834.
It seems fitting that those four numbers – the year of Wake Forest's founding – belonged to a historian who loved Wake Forest's history and who was one of the longest serving professors in the University's history.
Hendricks, who retired in 2009, died March 27 in Winston-Salem. He was 79.
"He was one of the most gentle, intelligent, considerate people I have ever known," said Chris Hendricks, one of his three children. "He loved his students and Wake Forest."
Hendricks' 48 years on the faculty was second only to psychology professor Bob Beck, who retired the same year. "Over the years, I was frequently asked what I teach at Wake Forest," Hendricks said in an interview when he retired. "I regret that I resisted the temptation to respond, 'Why, I teach Wake Forest students.' They were always what the process was all about."
Hendricks acquired the "1834" phone number when he and his wife, Sue (MBA '79), moved to a house on Faculty Drive in the late 1990s. "When they moved and had to change their phone number, the phone company assigned '1833,'" his son Chris Hendricks recalled. "Dad asked them, 'can you go up a year?'"
The house had once belonged to longtime College Registrar Grady Patterson ('24, MA '48), who built a fallout shelter in the backyard in the 1960s. When Hendricks discovered the long forgotten shelter, he developed a first-year seminar on "Fallout Shelters and the Cold War" and invited students to tour the shelter.
Hendricks joined the faculty in 1961, five years after the move to Winston-Salem. He developed an appreciation for Wake Forest's culture and history from faculty members who had made the move from the Old Campus to the new. "So many students come here without any knowledge of the University's history," he once said. "As we have changed and diversified over the decades it has become harder for us to fully understand and appreciate our heritage."
Hendricks began teaching his popular course on the history of Wake Forest in the 1970s. He spent two years producing an electronic version of the History of Wake Forest College books. He also wrote a history of the School of Law for the school's centennial celebration in 1994. After he retired, Hendricks had hoped to write a concise, one-volume history of the University.
"There was no one who knew as much about the history of Wake Forest from its beginnings as he did," said Provost Emeritus Edwin G. Wilson ('43). "When I was writing my history ("The History of Wake Forest University, volume 5"), I turned to him for information, and he gave me good suggestions and good anecdotes."
One of Hendricks' earliest students, Jenny R. Puckett ('71), said Hendricks inspired her when she eventually returned to Wake Forest to teach. "He made history come alive," she said. "He made me, and everyone else in the class, feel like I was the only one in the class." After Hendricks retired, Puckett taught a first-year seminar on Wake Forest's history for several years. She retired in 2013 as a lecturer in romance languages.
A native of Pickens, S.C., Hendricks graduated from Furman University. He completed his master's and doctoral degrees in American history from the University of Virginia and served in the U.S. Army.
Hendricks specialized in revolutionary and early American history and American biography and wrote a number of publications and books, including a biography of Philadelphia revolutionary Charles Thomson. After joining the Wake Forest faculty – his first and only faculty appointment – he became interested in historic preservation efforts. He taught historic preservation classes at Wake Forest and served as a consultant to historical sites and museums.
He served as a director of the Historic Preservation Foundation of North Carolina and as president of the North Carolina Literary and Historical Association. He also served as chair of the Winston-Salem/Forsyth County Historic Districts Commission and as president of Historic Winston and Wachovia Historical Society. He served on the board of Historic Bethabara and on the Old Salem restoration committee.
Hendricks is survived by his wife, Sue; two sons, James and Christopher, and one daughter, Lee Hendricks Turpin; and two grandsons. A memorial service will be held at 2 p.m. April 4 at College Park Baptist Church, 1701 Polo Road, Winston-Salem. Visitation will follow in Smith Hall at the church.
Memorial gifts may be made to the J. Edwin Hendricks Scholarship Fund in care of the Deacon Club, 499 Deacon Blvd., Winston-Salem, NC 27105.