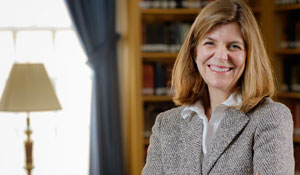 A message to faculty and staff from Wake Forest's new Dean of the College Michele Gillespie
Dear Colleagues,
By now, the news has been shared that I will be taking on a new role at Wake Forest. It is a privilege to be selected as the next dean of the College.
I am eager to support the faculty in our pursuit of the teacher-scholar ideal and to support the staff in their commitment to our community.
I think we all embrace what is timeless and true about our liberal arts tradition—the quest for knowledge, the open exchange of ideas, independent thought, appreciation for diversity and difference, and commitment to the collective good. Such an education nurtures exploration, imagination and creativity—indispensable qualities in our increasingly complex 21st century world.
Wake Forest is a special place. We are a community of passionate educators, gifted researchers and talented staff. We pursue academic excellence. We cherish our community. We embrace Pro Humanitate.
I am grateful for this new opportunity, and I look forward to working together with those faculty and staff who have been with Wake Forest for many years and those who are newer to our community in pursuit of academic excellence and the education of the whole person.