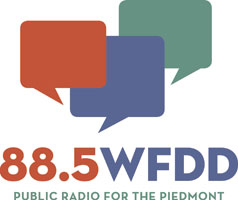 88.5 WFDD, the public radio station licensed to Wake Forest University, begins its spring pledge drive on April 6, but is attempting to reach its goal of $280,000 without the traditional interruptions to programming. The station is calling this effort a "Warp Drive," and will be sharing fundraising messages in short on-air spots, live mentions during regular station breaks, via emails to its mailing list, and on social media.
Sara Chisesi, Membership Coordinator at 88.5 WFDD, said that the Warp Drive plan was inspired by other stations around the country that have found success with this type of effort. "We know that our listeners love the programming—that's what they tune in to hear—so we always want to provide it with as few interruptions as possible. In the past several years, we've made a concerted effort to reduce the number of on-air pledge drives days we have, routinely coming in under the national average. But when we learned of other stations having success with a drive that didn't interrupt programming at all, we knew we had to give it a try."
The pledge drive begins on April 6, with messaging scheduled for the next three weeks. If the goal isn't met in that time, the station will begin a traditional on-air pledge drive on Monday, April 27, in order to meet its goal.
88.5 WFDD's general manager, Tom Dollenmayer, stressed that this fundraising strategy will only work if the listeners embrace it. "All we're asking is that if the Warp Drive idea appeals to you, take part in it by helping spread the word on social media, and by making a pledge of support. If everyone who listens pitches in, then there's no doubt we'll reach our goal."
According to Chisesi, only 6% of 88.5 WFDD listeners make a financial contribution. The station would like to see that percentage increase and Chisesi hopes that the Warp Drive serves as inspiration. She added, "We're having a lot of fun with this drive. People can expect to see fun memes, photos, and videos on our Facebook timeline and Twitter feeds, in emails, and on our website. We hope listeners will share the ones that speak to them."
88.5 WFDD can be found on Facebook at www.facebook.com/885wfdd and on Twitter at @wfdd. The station's website is wfdd.org, where listeners can subscribe to the e-newsletter.
88.5 WFDD, Public Radio for the Piedmont, is a broadcast service of Wake Forest University and is the only public radio station of its kind located in the Piedmont Triad. It broadcasts news, information, and public affairs programming covering the arts, people, and institutions in the area from its Winston-Salem studios. The state's charter NPR® member, 88.5 WFDD is the longest continuously-broadcasting public radio station in North Carolina.