Main Content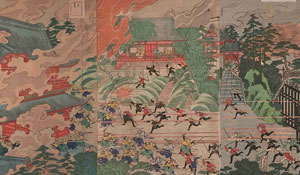 On January 30-31, Wake Forest University hosted "The Civil Wars of Japan's Meiji Restoration & National Reconciliation: Global Historical Perspectives" the initial conference in a multiyear, tri-continental (North America, Europe and Asia) project to facilitate international and interdisciplinary discussions in advance of the 150-year commemoration of Japan's Meiji Restoration.
The 1868 Meiji Restoration was a crucial moment in Japanese and modern world history. The samurai-dominated feudal regime was overthrown, and the new regime, advocating adoption of Western models, quickly revamped political, economic, military, religious, and social structures, transforming 250 semi-autonomous feudal fiefs into a unified nation-state. Within a few decades, Japan rivaled Western nations in military and economic prowess.
At the conference (organized by Associate Professor of History Robert Hellyer), an international gathering of historians, literature specialists, political scientists and art historians considered the Boshin War and Satsuma Rebellion, internal conflicts that surrounded the Meiji Restoration. The participants gave particular focus to exploring comparisons with other mid-19th century conflicts, especially the U.S. Civil War and China's Taiping Rebellion. In addition, two Wake Forest history majors, Hunter Davis and Alex Thomas, presented original research papers related to conference themes.
The project seeks to spark and nurture academic and popular interest, as well as disseminate new interpretations of the Meiji Restoration to international audiences. It will hold its next conference at Heidelberg University in Germany in July 2015, followed by conferences at Yale University and in Kyoto, Japan in 2016.
A Flickr gallery from the conference is available here.
The conference was made possible by the following sponsors and was held at Reynolda House Museum of American Art:
Wake Forest University: Department of History, Department of East Asian Languages & Cultures, Provost Office for Global Affairs, Provost Fund for Vibrant Campus, Dean's Office and Humanities Institute.
Support also provided by: National Endowment for the Humanities, Carolina Asia Center (UNC Chapel Hill), Asian/Pacific Studies Institute (Duke), Japan Foundation, Association for Asian Studies.
Recent Posts
May 22, 2020

May 20, 2020

May 19, 2020