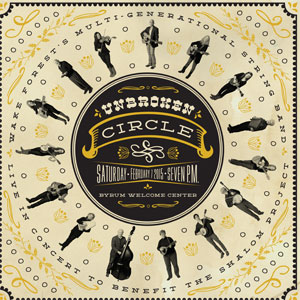 Mark your calendars for The Shalom Project Benefit Concert featuring Unbroken Circle, Wake Forest's multi-generational string band. The event will be held Saturday, Feb. 7. at 7 p.m. in Kulynych Auditorium in Byrum Welcome Center.
Band members include:
Bailey Allman: Fiddle
Ella Allman: Guitar, mandolin, vocals
Joe Allman: Bass
Martha Allman: Autoharp
Linda Bridges: Accordion, vocals
Kate Brooks: Guitar
Billy Hamilton: Banjo, vocals
Jodi Hildebran: Guitar
Will Huesman: Guitar, vocals
Graylyn Sage Kersh: Muse, musical apprentice
Jordan Lee: Guitar, vocals
Linda Luvaas: Mandolin, vocals
Sara Pesek: Banjo
Lando Pieroni: Banjo, vocals
Ed Wilson: Poetry
All proceeds go to support the work of The Shalom Project.