Main Content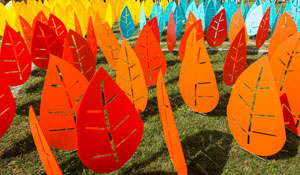 With the launch of Thrive last fall, Wake Forest joined a growing number of universities committed to supporting holistic wellbeing for faculty, staff and students.
Director of Wellbeing Malika Roman Isler and her team have planned a number of ways the campus can learn more about Wake Forest's eight dimensions of wellbeing.
In February, Thrive is highlighting social and spiritual wellbeing. Faculty, staff and students are invited to gather in the Green Room in Reynolda Hall from 3 p.m. to 5 p.m. on Friday, Feb. 20, to enjoy a Thrive Tea Party.
Dimension Discovery Tables, located on the second floor of the Benson Center near the Food Court, are open from 12:30 p.m. to 2:30 p.m. on the following Thursdays with information on specific dimensions of wellbeing as follows:
2/12: Social Wellbeing
2/26: Spiritual Wellbeing
3/5: Physical Wellbeing
3/19: Intellectual Wellbeing
Thrive @ 5
Thrive @ 5 is a monthly opportunity for faculty, staff and students to drop by and talk to Wake Forest's wellbeing team or share their thoughts, concerns, or ideas about wellbeing at Wake Forest. Shorty's caters free snacks for visitors who drop by for a casual chat or to simply hang out and relax.
"Thrive @ 5 is a great opportunity for the Wake Forest community to share their thoughts about wellbeing with our team in a casual, face-to-face setting," says Roman Isler, Wake Forest's director of wellbeing. "It's essential that we engage in meaningful conversations about everyday experiences in our community in order to learn from each other and improve wellness campus-wide."
The wellbeing team includes:
Malika Roman Isler – Director of Wellbeing
Kevin Harrell – Director of Health Promotion
Beth Montplaisir – Coordinator of Sexual and Relationship Violence Prevention and Response, SAFE Office
Paige Horton – Presidential Fellow, Campus Life
Nikki Villanueva – Coordinator, Wellbeing
Follow Thrive on Facebook, Instagram and @WFUThrive. Hashtags are #WFUThrive, #Thrivers and #WeighInWFU
Recent Posts
May 22, 2020

May 20, 2020

May 19, 2020