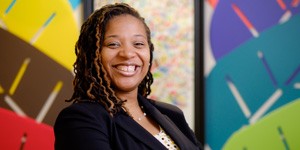 A Staff Advisory Council (SAC) meeting will be held on Wednesday, Feb.  11 at 9:30 a.m., in Benson 401.
Malika Roman Isler, director of wellbeing, will discuss, among other important topics, Thrive and the intersection of emotional, social, physical, financial, occupational, spiritual, intellectual and environmental dimensions of life.
Roman Isler and her wellbeing team aim to give students, faculty and staff the skills, knowledge and perspective to live healthier, balanced lives.