Main Content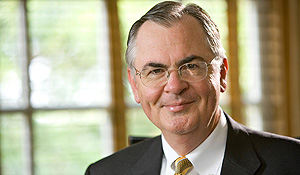 North Carolina Campus Compact, a network of 33 public and private colleges and universities committed to community engagement, has honored Wake Forest University President Nathan Hatch for outstanding leadership of the University's community engagement efforts.
Hatch will receive the 2015 Leo M. Lambert Engaged Leader Award at the network's annual PACE Conference on Feb. 18. The PACE Conference draws more than 250 faculty and staff to explore topics related to service-learning and community engagement.
Named in honor of Elon University's president, the Lambert Award is given annually to one North Carolina college or university leader who is committed to creating and sustaining efforts that deeply impact community and campus. The honoree is nominated and selected by fellow presidents and chancellors whose institutions are members of the Compact network.
While at Elon, Hatch will also take part in a special Presidents Forum. This event will convene 70 higher education, foundation, business and community leaders to discuss creating a culture of service among young people in our state.
North Carolina Campus Compact is a collaborative network of colleges and universities with a shared commitment to educating engaged citizens and strengthening communities. Presidents and chancellors from more than 48 public, private, and community colleges and universities have joined since the Compact was founded in 2002. Member campuses are also part of the national Campus Compact network, which includes 34 state affiliates and more than 1,100 college and university presidents. The state office is hosted by Elon University.
Wake Forest University became a founding member of North Carolina Campus Compact in 2002 under President Thomas K. Hearn Jr.
Recent Posts
May 22, 2020

May 20, 2020

May 19, 2020