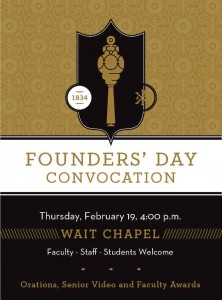 Each year, the Wake Forest family gathers for the Founders' Day Convocation to observe the University's founding in February of 1834. Wake Forest will hold Founders' Day Convocation on Thursday, Feb. 19, at 4 p.m. in Wait Chapel.
The Medallion of Merit, the highest honor bestowed by the University, will be awarded at the event. Faculty awards in the areas of advising, teaching and service will also be presented. Three seniors will read their winning orations, and a senior video honoring the Class of 2015 will be screened.
The Office of the Provost will be hosting a reception following the Convocation in Scales Fine Arts Center, Lower Lobby.