Main Content
When The New York Times abruptly fired former Executive Editor Jill Abramson just five days before she was scheduled to address Wake Forest University graduates, members of the Communications and External Relations (CER) team established a proactive communications strategy, developed a media relations plan, and provided access and support for news media.
Abramson delivered a timely and meaningful lesson in "resilience" for the Class of 2014 and their families… not to mention those around the world watching through the lenses of the 50+ top-tier media present for the ceremony or via the dozens of outlets who streamed the event online.
In recognition of their efforts, CER received an Award of Excellence in the Media Relations category from the Council for Advancement and Support of Education (CASE) for "Commencement Speaker Drama? Getting it Right in the National Spotlight."
The news team's Katie Neal and Cheryl Walker will co-present on this topic at the Public Relations Society for America (PRSA) Counselors to Higher Education conference in April.
CER also won a Special Merit Award in the Social Media Strategy and Execution category for #MyWakeForest, the social media campaign designed to support Wake Will. Although #MyWakeForest was originally designed to support campaign goals, it quickly became a dynamic tool that helped advance University goals from admissions to alumni engagement.  Under the leadership of Sarah Boerkircher and Mary K. Elkins, #MyWakeForest has been a hit at campaign events, Commencement, Homecoming, new student orientation and other events.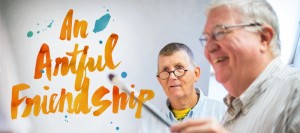 Wake Forest Magazine
Editor Maria Henson ('82) won a CASE Award of Excellence in the feature writing category for her piece, "An Artful Friendship," a story about two fraternity brothers, Charlie Stott ('67) and Dick Peterson ('67) who renewed their bond of friendship in painting.
The entire Wake Forest Magazine team also received an Award of Excellence in the Print and Digital Publications category for their enrollment group. In addition to Henson, the magazine staff includes Cherin Poovey (P '08), managing editor; Kerry M. King ('85), senior editor; and Janet M. Williamson (P '00, '03), deputy editor.
Members of Wake Forest's creative group on the magazine production team are Hayes Henderson, creative director; Jill Carson and Kris Hendershott, graphic designers; Gretta Kohler, project manager; Julie Helsabeck, freelancer; and Ken Bennett, University photographer.
Read more on the Wake Forest Magazine Deacon Blog post, "Happiness is recognition from our peers."
CASE advances and supports educational and professional institutions in the southeastern United States by enhancing the effectiveness of the alumni relations, fund raising, communications, marketing and other advancement professionals who serve them.
Recent Posts
May 22, 2020

May 20, 2020

May 19, 2020