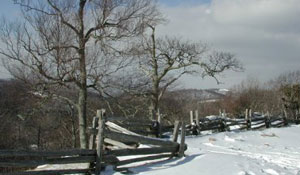 88.5 WFDD, the public radio station licensed to Wake Forest University, and the Blue Ridge Music Center, operated by The National Park Service and in partnership with the Blue Ridge Parkway Foundation, are presenting a winter concert tour, Across the Blue Ridge: Old Sounds, New Trails. The concert series is funded in part by a grant from the North Carolina Arts Council, a division of the Department of Cultural Resources.
The tour will include four music concerts in cities around the Piedmont and High Country (Mount Airy, West Jefferson, Greensboro, and Winston-Salem), each of which will be emceed by radio host Paul Brown and will include a variety of mountain music styles such as Old-Time Bluegrass, Country Blues, Americana, and Folk. Paul Brown & His Piedmont Pals (Terri McMurray and Craig Smith) will perform at all four of the shows in addition to musical guests.
When describing the vision of the Across the Blue Ridge: Old Sounds, New Trails concert tour, Paul Brown stated, "This is a really exciting Across the Blue Ridge series, and I'm thrilled that we're able to pull it together. The Blue Ridge music story is terrific, including Gospel, blues, Bluegrass, and old mountain dance tunes. We'll hear all of these styles, from a great multi-generational cast of performers. I'm very happy that in each show we'll have musicians who learned one-on-one from the last of the real old time mountaineer players, plus up-and-coming young players from a new wave of interest in Blue Ridge music, and established performers writing and recording new songs in the genre."
On Friday, Jan. 9, Paul Brown & His Piedmont Pals will kick off the tour at 7:30 p.m. at the UNCG Recital Hall in Greensboro. Guest musicians for this performance include recent Grammy nominee Alice Gerrard (& friends), plus Rich Hartness and Tolly Tollefson. The next show in the series will be held the following night, Saturday, Jan. 10, at 7 p.m. at the Andy Griffith Playhouse in Mount Airy with musical guests The Slate Mountain Ramblers and Stevie Barr & The Mastertones. Then, on Saturday, Jan. 17, at 7 p.m., Across the Blue Ridge will be on stage at the Ashe County Civic Center in West Jefferson, N.C., and will include performances by Paul Brown & His Piedmont Pals along with The Spencer Branch Band and Kitty Amaral & The Stray Cats. The final performance of the tour will be held on Saturday, Feb. 7, at 7:30 p.m. at SECCA in Winston-Salem, and will include performances by Paul Brown & His Piedmont Pals in addition to Wayne Henderson and Helen White and The Buckstankle Boys.
Tickets are now on sale at http://www.blueridgemusiccenter.org/abr.htm. Tickets are $18 each when purchased in advance, or $20 each on the day of the show. Tickets for students under 18 (with a valid ID) are $15 each.
For more information about the Across the Blue Ridge: Old Sounds, New Trails Concert Tour, please visit http://www.blueridgemusiccenter.org/abr.htm.
88.5 WFDD, Public Radio for the Piedmont, is a broadcast service of Wake Forest University and is the only public radio station of its kind located in the Piedmont Triad. It broadcasts news, information, and public affairs programming covering the arts, people, and institutions in the area from its Winston-Salem studios. The state's charter NPR® member, 88.5 WFDD is the longest continuously-broadcasting public radio station in North Carolina.
Across the Blue Ridge: Old Sounds, New Trails • Musicians
The Piedmont Pals (Paul Brown, Terri McMurray & Craig Smith)
Paul Brown is well known in the region as a performer, collector, and interpreter of traditional music with special expertise in the Round Peak and southwest Virginia traditions of fiddle, banjo, and song. Paul Brown is also a popular teacher of traditional music at camps and festivals, featuring the music's historical and cultural context. He is known to a national audience as a newscaster, reporter, and producer for NPR in Washington. Brown left NPR after 14 years there in 2013, and continues to produce news and arts-related stories for the radio network on a freelance basis from his Winston-Salem, NC headquarters. He is the creator of Across the Blue Ridge, which aired on NPR member station WFDD in the 1980s and 1990s and which received support then from the NC Arts Council for fieldwork and live presentation of traditional musicians.
Terri McMurray started playing ukulele in her hometown of Madison, Wisconsin when she was about eight years old. Later, she took up guitar and old time banjo. Terri moved to North Carolina in 1982 to be near some of the great old time fiddle and banjo players and spent a lot of time learning banjo from Tommy Jarrell and Dix Freeman. She has played with many other great traditional players, such as Earnest East, Benton Flippen, Paul Sutphin, Fields Ward, Luther Davis, Verlen Clifton, and Kyle Creed. Terri was a founding member of the original Old Hollow String Band, along with Riley Baugus and Kirk Sutphin and has also been a member of the Toast String Stretchers and the Mostly Mountain Boys.
Craig Smith is frequently called "the banjo player's banjo player". He's a California native with a stunningly deep understanding of the Bluegrass greats such as Earl Scruggs, Ralph Stanley, and J.D. Crowe, and an equally impressive creativity all his own. A Grammy Award winner, Craig has played with Charlie Moore, Jim Eanes, Summer Wages, Boot Hill, and Laurie Lewis. But he prefers to stay home in Winston-Salem, giving banjo lessons, playing music with friends, and performing each year at the Dixie Classic Fair in Winston-Salem.
The Slate Mountain Ramblers
The Slate Mountain Ramblers, featuring fiddler Richard Bowman, have long been a staple at fiddlers' conventions and dances in the northwest North Carolina and southwest Virginia. They're regarded as one of the finest family string bands of the Blue Ridge.
Stevie Barr & The Mastertones
Banjo picker Stevie Barr is a native of Galax, VA, and the son of a well-known local musician and instrument builder and repairman, Tom Barr. Stevie is considered one of the shining stars of The Crooked Road: Virginia's Musical Heritage Trail. He has performed for Presidents and Governors, as well as the Queen of England. The Mastertones are a talented group of young instrumentalists and vocalists that Stevie has put together to spread the old-time mountain music of Galax and the Blue Ridge Region to audiences throughout the southeast.
The Spencer Branch Band
Spencer Branch is the collaboration of siblings Martha Spencer (Whitetop Mountain Band) and Kilby Spencer (Crooked Creek Ramblers) from Whitetop Mountain along with North Carolina native Kelley Breiding (Kelley & The Cowboys). They play music drawn from their mountain heritage in addition to traditional country, bluegrass, and a healthy dose of original songs. Their vocal harmonies and exciting fiddle tunes are a powerful combination sure to keep you entertained.
Kitty Amaral & The Stray Cats
Kitty Amaral, age 12, began her musical journey at the early age of four when she started violin lessons. It was not long after that she discovered Appalachian Old Time and Bluegrass fiddle repertoire and fell in love with these genres and the people who play it. Kitty plays traditional Old-time and bluegrass with the string-band; "Kitty & The Stray Cats", featuring a group of talented, veteran Grayson County musicians. She has won numerous First Place ribbons for Youth Old Time Fiddle at Fiddle Conventions around the region.
Alice Gerrard & Friends
Alice Gerrard is a talent of legendary status. In a career spanning some 40-plus years, she has known, learned from, and performed with many of the old-time and bluegrass greats and has in turn earned worldwide respect for her own important contributions to the music.
Gerrard is particularly known for her groundbreaking collaboration with Appalachian signer Hazel Dickens during the 1960s and '70s. The duo produced four classic LPs (recently reissued by Rounder on CD) and influenced scores of young female singers. Gerrard's two solo albums, Pieces of My Heart and Calling Me Home, were released to critical acclaim and showcase Alice's many talents: compelling, eclectic songwriting; powerful, hard-edged vocals; and instrumental mastery on rhythm guitar, banjo, and old-time fiddle.
A tireless advocate of traditional music, Alice has won numerous honors, including an International Bluegrass Music Association (IBMA) Distinguished Achievement Award, a Virginia Arts Commission Award, the North Carolina Folklore Society's Tommy Jarrell Award, and an Indy Award. She was recently nominated for a Grammy Award in the category of Best Folk Album.
The Buckstankle Boys
The Buckstankle Boys are a group of young men born and raised in the Blue Ridge Mountains of Virginia and North Carolina. Each one of them, having being brought up and schooled in the ways of traditional mountain music, decided to form a group to promote the older sounds of bluegrass and old-time music.
Wayne Henderson
Wayne Henderson's top-notch finger-picking is a source of great pleasure and pride to his friends, family and neighbors in Grayson County, Virginia. His guitar playing has also been enjoyed at Carnegie Hall, in three national tours of Masters of the Steel-String Guitar, and in seven nations in Asia. In addition to his reputation as a guitarist, Henderson is a luthier of great renown. He is a recipient of a 1995 National Heritage Award presented by the National Endowment for the Arts. He produces about 20 instruments a year, mostly guitars; he is almost as well-known for the mandolins he has made. Good friend Doc Watson owned a Henderson mandolin.
Rich Hartness and Tolly Tollefson
Seasoned traditional music players from the Piedmont of North Carolina, Rich and Tolly form a tight acoustic duet, fiddle/guitar, that plays Old-Time American string music ranging from Tommy Jarrell's Round Peak tunes and spooky modal tunes of Rich Hartness's fiddling, to the spirited flat key rags of the East Texas Serenaders and Grinnell Giggers of Tolly Tollefson's fiddling.