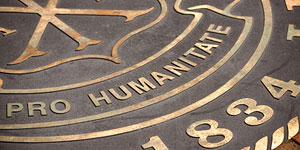 Wake Forest's Pro Humanitate Institute and the Office of Personal and Career Development are co-sponsoring a clothing drive for Dress for Success in honor of Nancy Lublin's visit to campus for the Leadership Project. At age 23, Lublin founded Dress for Success using a $5,000 inheritance.
Dress for Success is a nonprofit that provides interview suits and career development training to women in Winston-Salem and in more than 125 cities in 15 countries. The organization promotes the economic independence of disadvantaged women by providing professional attire, a network of support and the career development tools to help women thrive in work and in life. In 2014, the Winston-Salem affiliate assisted 149 women.
In addition to professional women's clothing of all sizes (size 16 and above are a special need), the Pro Humanitate Institute is collecting:
Professional shoes,
Jewelry and scarves,
Purses and handbags,
Hair and makeup supplies (new packages),
Toiletries (sample sizes), and
Belts
You may bring items to the Pro Humanitate Institute in Benson 311, or if you would like to collect donations as a department, email Mary Gerardy at gerardym@nullwfu.edu to arrange for pickup.
"Dress for Success is an organization that empowers women in their search for careers," said Mary Gerardy, co-director of the Pro Humanitate Center and the first board of directors chair for the Winston-Salem Dress for Success. "This is a wonderful opportunity for the Wake Forest community to ensure women in need do not have to worry about having appropriate work clothing and instead can focus on their personal contributions to the workforce."
The clothing drive will run through the month of February.
Lublin will be participate in an open dialogue on leadership with Wake Forest President Nathan Hatch and politics professor Melissa Harris-Perry on Wednesday, Feb. 4 from 6 to 7:15 p.m. in Wait Chapel. The event is free and open to the public.
About the Leadership Project
The Leadership Project is designed to engage members of the Wake Forest community with inspiring stories from leaders who represent a variety of professional paths, span a range of age groups and embrace diverse worldview.
By inviting speakers with various viewpoints and different perspectives, students, faculty, staff and the community can explore together the wide range of leadership qualities and styles that others have found successful and choose the best fit for themselves.
A faculty and staff advisory committee helps guide the program, and suggestions for future leadership speakers are encouraged and welcomed. Contact Matt Williams at williamj@nullwfu.edu for additional information.