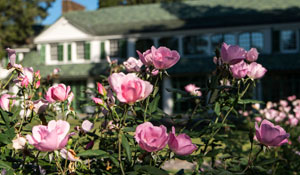 Reynolda House Museum of American Art is offering a new annual pass that gives free admission to all of the museum's after-hours events in 2015.
Reynolda After Hours (RAH) is a series of programs held in the evening after the museum's regular hours of operation end at 4:30 p.m. Events range from the popular summer events "Summertime Social" and "Cinema Under the Stars" to monthly extended gallery hours for major exhibitions.
The RAH pass, available for $55, offers a savings of more than $15 over individual admission to the same events.
"We've seen a growing number of people who want to experience Reynolda House outside of a day visit or tour," said Natalie Broyhill, the museum's membership manager and one of the staff members helping launch the new program. "The RAH pass is a direct result of conversations with people in our community about how they want to experience the educational and social aspects of the museum."
For more information and to purchase tickets for the new annual pass, visit http://reynoldahouse.org/reynolda-after-hours.