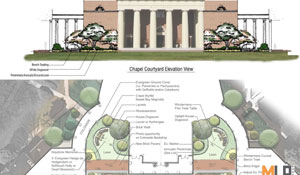 Over the winter break, Facilities and Campus Services began renovation of the courtyards to the east and west sides of the Hearn Plaza entrance to Wait Chapel. Work, which began on Dec. 15 is scheduled for completion on Jan. 16.
Overgrown shrubbery, which was causing damage to the building and obscuring the site, has been removed and will be replaced with a more inviting pocket garden design that opens the spaces up to Hearn Plaza. The project will include curved teak benches, brick pavers, blue stone and an entirely new planting scheme. A larger rendering of the landscaping plan is available on the Office of Sustainability's website.
Also, a weeping cherry tree on the island in the middle of parking lot P on the east side of Wait Chapel was removed on Jan. 6. The tree, which was part of the original campus planting plan, split down the trunk, rendering it unsalvageable.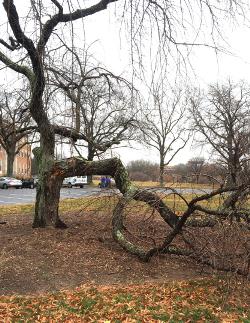 This tree will be replaced with the original varietal Weeping Higan Cherry (Prunus subhirtella 'Pendula'). A description of this tree states that it "grows 20 to 30 feet tall and spreads 15 to 25 feet in a graceful weeping habit. Leaves stay glossy green throughout the summer and into the fall when they turn a vivid yellow before leaving the tree bare in winter. The drooping bare branches even lend a soothing grace to the landscape in winter. There is nothing quite like the Weeping Higan Cherry in full bloom in the spring. The light pink (almost white), one-inch-diameter flowers cover the branches before the leaves emerge, giving the appearance that fresh snow has fallen on the tree."
For more information on Wake Forest's water and landscaping initiatives, click here. The Office of Sustainability offers a monthly newsletter and maintains a listserv. Join the mailing list to receive information. Follow the Office of Sustainability on Twitter .