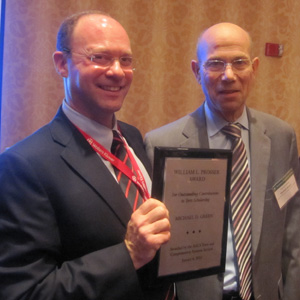 Law Professor Michael Green was recognized by the Association of American Law Schools (AALS) Torts and Compensation Systems Section on Sunday, Jan. 4, 2015. The section presented Green with the annual William L. Prosser Award for outstanding contribution in scholarship, teaching and service related to tort law.
In attendance were Interim Dean Suzanne Reynolds ('77), Executive Associate Dean for Academic Affairs Ron Wright and Associate Dean for Research and Development Jonathan Cardi, who was one of Green's former law students. Also in attendance were a number of other Wake Forest Law faculty members and staff as well as Green's three children, his wife, Carol, and his brother and sister.
Cardi told the group before presenting the award: "My father, Vince Cardi, is the reason I became a law professor. My friend, colleague, mentor and in many ways my second father, Mike Green, is the reason I became a torts professor."
In his acceptance speech, Green credited his students (including Cardi), his colleagues, his family, but mostly his wife, Carol. "I am very humbled by this award," he said. "This was a signal honor and hard to believe that I belong among those who have won this award in the past, people I have so admired for their contributions to tort law over the years."
Green also participated in the AALS Torts & Compensation Systems Section panel, entitled "Tort Law and a Healthier Society," led by Indiana University Robert H. McKinney School of Law's Andrew Klein. Other panel participants were Michelle Mello, Stanford Law School; Dorit Reiss, University of California, Hastings College of the Law; and Diana Winters, Indiana University Robert H. McKinney School of Law. The program focused on on leading issues at the intersection of tort and health law.
"I'd like to congratulate the 2015 AALS section award winners," said Daniel B. Rodriguez, AALS president and dean of Northwestern University School of Law. "These law professors represent the very best of our academic community and their commitment to our students and excellence in our profession is rightly celebrated by these section awards."
Professor Green is a nationally and internationally recognized torts teacher and scholar. He served as Co-Reporter for the Restatement (Third) of Torts: Liability for Physical and Emotional Harm, Green and his Co-Reporter President and Professor William C. Powers Jr. of the University of Texas were jointly honored with the John G. Fleming Memorial Prize for Torts Scholarship in 2012. Green is a member of the European Group on Tort Law, which prepared and published the Principles of European Tort Law in 2005. He is a founding member and Executive Committee member of the World Tort Law Society, an organization of torts scholars from Europe, Asia and the Americas.