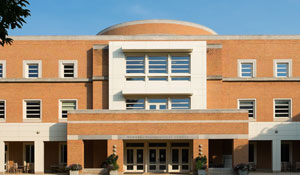 Temporary fencing is in place on Carroll Weathers Drive near Worrell Hall as construction begins on a three-story addition — soon to be the new home for Wake Forest's Department of Health and Exercise Science (HES).
The construction, which started on the west side of Worrell Hall in December with underground utility work, will continue through Jan. 2016. During this time, the Wake Forest community can expect:

Minor interruptions to pedestrian and vehicle traffic along Wingate Road from delivery trucks, grading, steel erection and other construction needs;
A limited number of parking spaces to be used at various times in lot W1 for construction materials and construction office space;
Foot traffic to and from the rear entrance of Worrell will be required to use the wood covered bridge;
Faculty and staff housed in Worrell and adjacent buildings to be minimally affected.
The 28,000 square foot addition will include a two-story entry into the HES suite at the ground floor, facing west — providing easy entry for students, faculty, staff and HES visitors. The building will house research space, classrooms, and academic and administrative offices.
Select parts of Worrell's interior are also under renovation. This work includes approximately 8,000 square feet on two floors of Worrell to create new academic space.
Site work includes building sidewalks, an entry plaza and other exterior development to connect pedestrians to parking areas west of Worrell and to existing sidewalks on the northwest side of the building.
The renovation of Worrell Hall and new addition for HES are funded in part through the generous donations to Wake Will: The Campaign for Wake Forest.