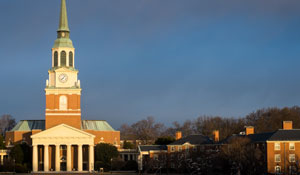 Dear Students, Faculty and Staff,
Welcome back to Wake Forest. I hope each one of you enjoyed time with family and friends and have returned to campus refreshed and eager for the semester ahead.
At the start of 2015, we stand at the threshold of a new beginning, where together we face opportunities to better our Wake Forest community. Each semester, we are offered an invitation: what will we do with our time on this campus? Many who have come before us have left their compelling answers to that question.
Jane Sherrill Stroupe ('67) posed an idea, and with the encouragement of the late Chaplain Emeritus Ed Christman, started the Wake Forest Lovefeast. In December, we celebrated the 50th anniversary of this tradition, which has become a Wake Forest signature event and the largest Moravian-style lovefeast in North America.
In 1995, Jessica Davey ('95), a student with vision and initiative, organized a trip to India to serve alongside Mother Teresa. The City of Joy program still sends Wake Foresters to volunteer to meet the needs of the people in Calcutta 20 years later.
This spring, we will celebrate the 10th anniversary of Wake 'N Shake, a student-initiated tradition that has grown to become one of our largest campus-wide philanthropic efforts.
In each of these examples, members of our community took an idea, combined it with passion and ingenuity and created traditions that we enjoy today. So what is it that you will do this semester? How will you contribute to building our community? What idea will you pursue that might inspire friends, neighbors and generations of Wake Foresters to come?
To get you started thinking about the possibilities, here are some upcoming events that might engage your imagination.
Leadership Project on February 4
Interested in how to motivate people to make a difference? Nancy Lublin has turned DoSomething.org into one of the largest youth organizations in the world with more than 2.5 million active members providing support for activities that make a difference, such as holding a jeans drive for homeless teens or creating activity books for children in hospitals. Ms. Lublin will be speaking on February 4 as part of Wake Forest's Leadership Project.
WISE Conference on February 4-6
Wake Forest has become a leader in helping students get the most for their international experiences and improving intercultural skills. The WISE Conference, to be held February 4-6, explores intercultural learning both abroad and on U.S. campuses. Faculty, staff and students can attend any or all parts of the conference free of charge to learn more about sharing life experiences with people from countries and backgrounds different from our own.
Voices of our Time on March 26-27
On March 26, Mary Robinson, president of the Mary Robinson Foundation — Climate Justice, an organization advocating for people affected by climate change, will speak as part of a two-day interdisciplinary symposium on environmental inequality. Andrew Revkin, author of Dot Earth blog on the New York Times, will also speak as part of the conference. It is an opportunity to learn more about how each of us can make a difference in building a more sustainable world.
Thrive: Our Comprehensive Focus on Wellbeing
Throughout the semester, we will focus on two aspects of wellbeing a month. In January, we will concentrate on occupational and financial wellbeing.
As you start new classes, reunite with friends and deepen relationships with your peers and colleagues, I am eager to see where our creativity and thoughtfulness might lead us.