Main Content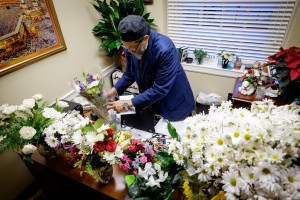 The following is an open letter to the Wake Forest community from Imam Khalid Griggs, Associate Chaplain for Muslim Life:
It is with heartfelt emotion that I express my genuine appreciation for the overwhelming expressions of support that I have received in the aftermath of the unconscionable act directed at me, and by default, Muslim Life at Wake Forest University. The student initiated flower and card campaign has led to literally dozens of flowers, plant arrangements, and cards being delivered to my office door by students, faculty, staff, food service workers, campus police, and campus administrators. These deliveries often cause my eyes to water, especially when students, heretofore unknown to me, hand me cards or flowers while tearfully articulating their sorrow and regret that such an incident had occurred. Frequently, an entire departmental staff has brought me tidings of support.
The disrespectful act has galvanized the entire Wake Forest community to provide a counter narrative for anyone who aspires to reverse the deliberate, intentional direction of diversity and inclusion that the university has decisively embarked upon. I am convinced that there is no better division within the university than the Division of Student Life led by Adam Goldstein, Associate Vice President/Dean of Students and Penny Rue, Vice President of Campus Life, and no better staff than the Office of the Chaplain headed by University Chaplain Tim Auman. University President Nathan Hatch and Board of Trustees Chairman Don Flow have provided unequivocal encouragement and support throughout this difficult period.
I will forever cherish the outpouring of support that I have received and vow to redouble my efforts to see actual inclusion come to fruition for all who comprise our community. Thank you from the bottom of my heart.
University Chaplain Tim Auman provided the following response to local media: 
While I wish this incident had not happened, it is, in many ways, bringing out the best in Wake Forest students, faculty and staff by creating opportunities for conversation, education and greater understanding.
What speaks volumes is how the campus community has rallied in support of Imam Griggs, from the student-led "To Leave Flowers At His Door" campaign (pictured above) to expressions of support from students, faculty and staff around campus and from the Winston-Salem community.
First and foremost, Imam Griggs is a peacemaker, mentor and bridge builder, which is reflected by the outpouring of support from people of a variety of religious and philosophical traditions. As an Associate Chaplain, Imam Griggs supports Muslim life at Wake Forest and is well known as an interfaith leader on campus and in the broader community.
Recent Posts
August 6, 2020

August 5, 2020

August 5, 2020