Main Content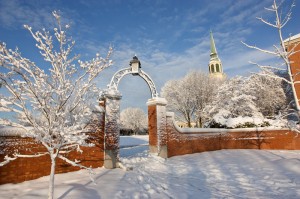 In the event of severe weather that prompts a delay or closing, Wake Forest will use several methods to alert students, faculty and staff to schedule changes.
On occasion, because of snowy or icy weather conditions, Wake Forest officials have announced a decision to close the campus for the day or delay the start of classes and the opening of offices. In such cases, the University will use the following communication channels:
The Wake Alert website at wakealert.wfu.edu.
A headline across the top of the University home page at wfu.edu. It will link to the Wake Alert website.
An email message to faculty, staff and students.
A voice mail message to faculty and staff.
A message on the University's weather/emergency phone line (336-758-5935).
Announcements on radio stations WFDD (88.5 FM) and WSJS (600 AM).
Announcements on TV stations WXII, WGHP, WFMY and News 14 Carolina.
Recent Posts
August 6, 2020

August 5, 2020

August 5, 2020