Main Content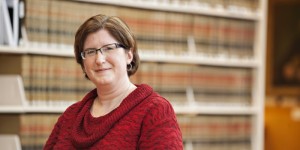 Wake Forest Law Professor Tanya Marsh has been appointed as one of seven Associate Reporters to work on the first comprehensive Restatement of Property Law for the American Law Institute (ALI).
The Institute, through a careful and deliberative process, publishes restatements of various law and propositions for legal reform. The purpose of a restatement is to provide clarity for courts as to the meaning of different laws. Marsh will have primary responsibility for the volume entitled "Titles and Transfers," which will tentatively include title recording, real estate transactions and mortgages.
The Restatement of the Law Fourth on Property seeks to clarify American property law. It will be the first comprehensive restatement of property law in the country, according to ALI. It will cover topics including a classification of entitlements, possession, accession and acquisition; ownership powers; protections of a limits on ownership; divided and shared ownership; title and transfer; easements, servitudes and land use; and public rights and takings.
The Lead Reporter on the project is Harvard Law School Professor Henry E. Smith, who will develop a series of drafts with consultation and assistance from the Associate Reporters. The drafts will then be reviewed by the project's Advisers and Members Consultative Group, the Council and the ALI membership.
Marsh's scholarship addresses commercial real estate, the regulation of community banks and laws regarding the status, treatment and disposition of human remains. In the course of her career she practiced real estate and corporate law with two large firms in Indianapolis, and spent five years as in-house counsel with a public shopping center REIT. Learn more about Marsh here: http://law.wfu.edu/faculty/profile/marshtd/
Recent Posts
August 6, 2020

August 5, 2020

August 5, 2020